QuVideo apps exploit new avenues during the pandemic to consolidate overseas biz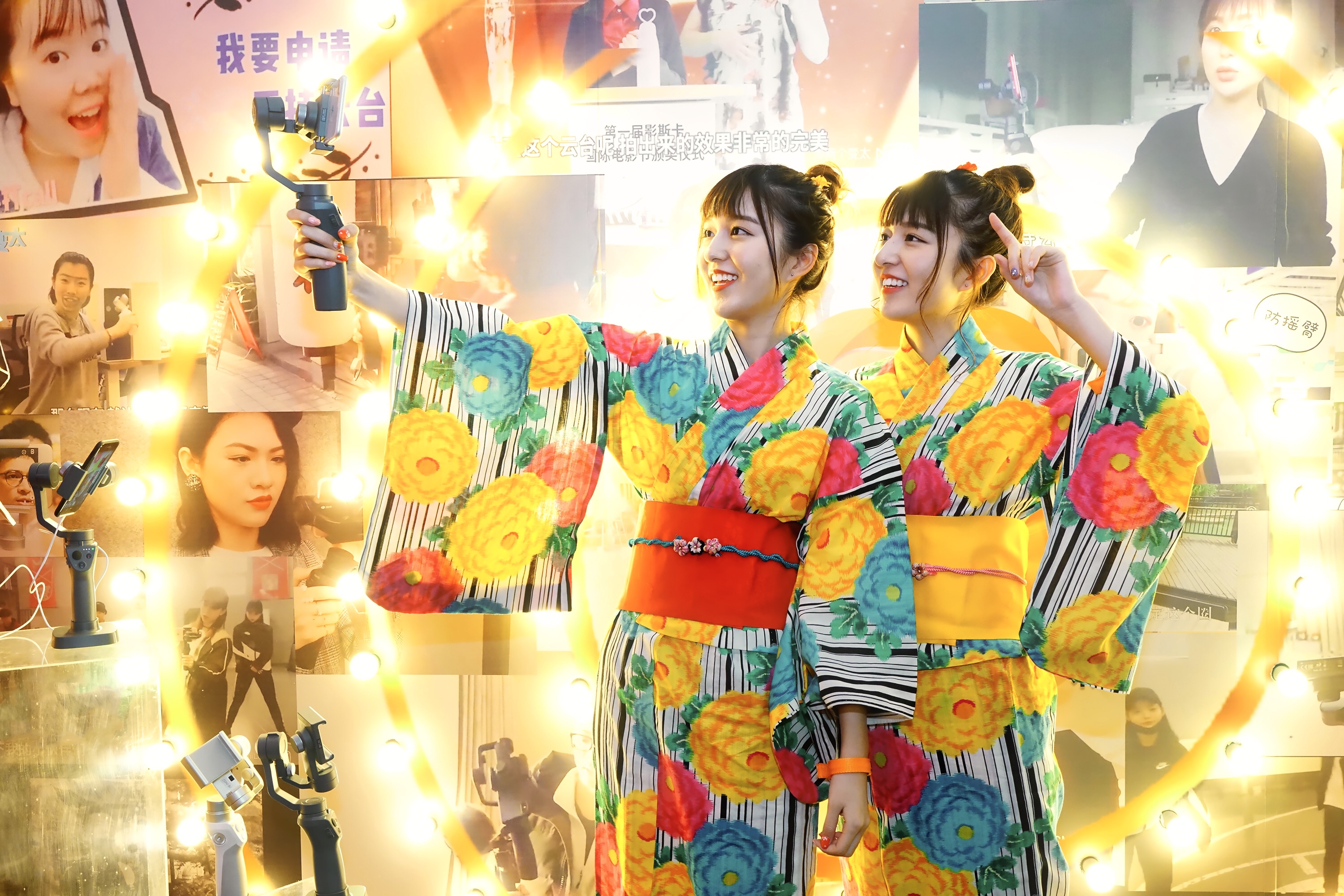 Two Japanese vloggers pose at VivaVideo's launch ceremony in Beijing in this file photo. [Photo/China Daily]
Chinese short video companies have found an ingenious way of offering a sense of belonging and moral encouragement to users in COVID-19-stricken countries: they are exporting their video-editing software.
For instance, Hangzhou-based internet-based company QuVideo Co Ltd, parent of video-editing app VivaVideo, provided its mobile video creation tools and services so that those stuck indoors due to lockdowns could do some creative work. This move led to a rapid rise in the number of its newly registered users.
Han Sheng, founder and chief executive officer of QuVideo, said when the epidemic broke out in China, people spent most of their time indoors. The company's mobile app VivaVideo, which allows users to edit short videos and post online, became one of people's favorite social activities.
In March, as the pandemic spread overseas, there was a rapid surge in new overseas users as well, he said.
Although absolute numbers were not available, percentage-wise data from the company showed that newly registered overseas users of VivaVideo surged by 47 percent from March 15 to April 17.
Specifically, new users in Europe rose by 68 percent, and those in the United States increased by nearly 50 percent. Besides, QuVideo's other products, such as the professional video-editing software VivaCut, also achieved significant growth.
To target overseas users, the company adjusted its strategy to meet specific demands of users in each local market. For instance, in the pandemic-stricken markets such as the US, Europe, Brazil and Indonesia, the company's local team launched a video-editing template called #I will survive#, reminding the public to wash hands properly and frequently.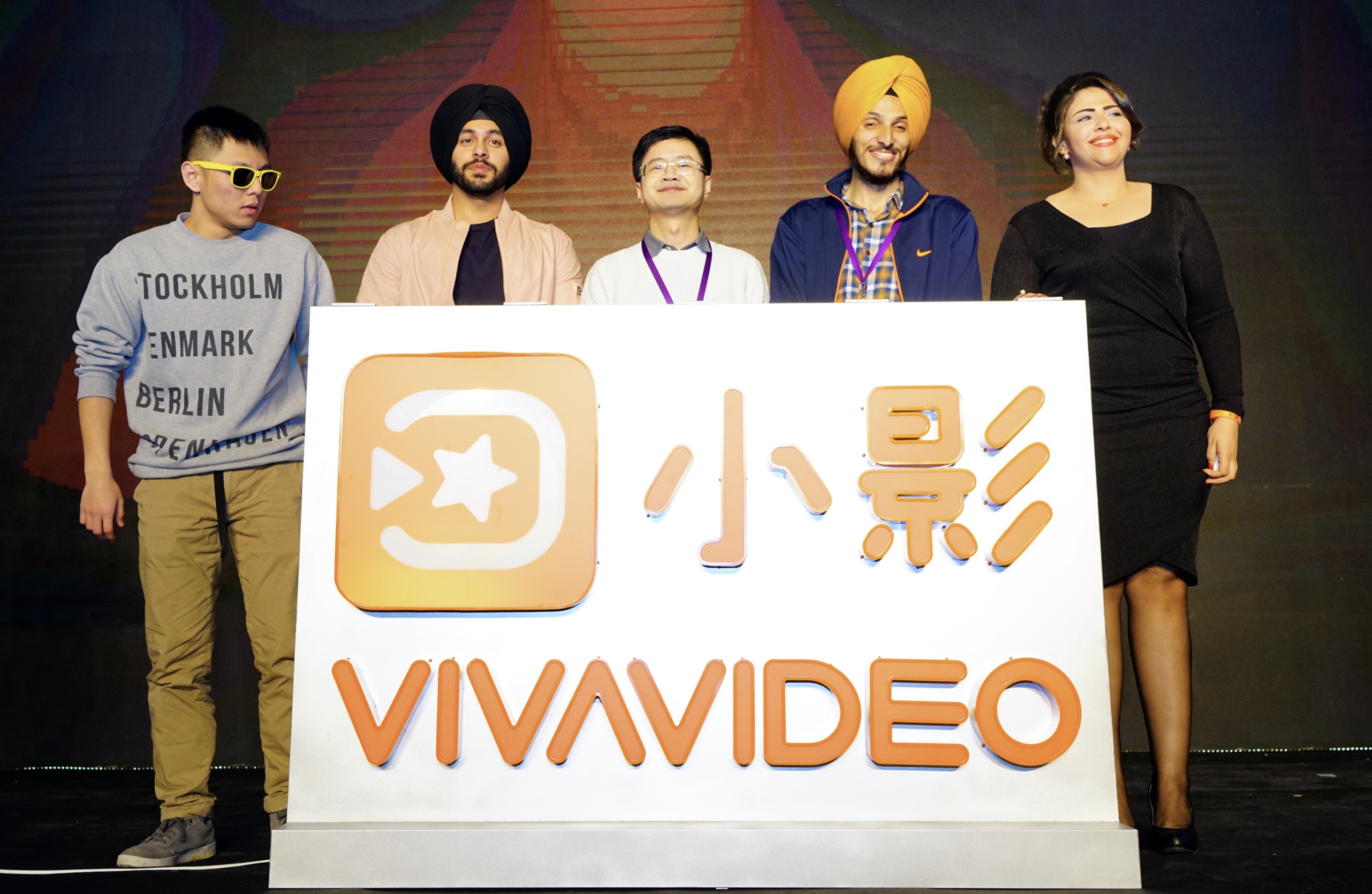 Han Sheng (center), founder and chief executive officer of QuVideo Co Ltd, poses with foreign online celebrities at a brand launch in Beijing. [Photo/China Daily]
Another template, namely#quarantine life#, encourages netizens to record their daily routine during the quarantine period. #Stay at home# is a more artistic template, helping users to enjoy an easy mood while recording their life at home.
QuVideo was among the first batch of Chinese internet-based companies to go global. Back in 2013, the company saw surging demand for "self-expression via video" in the overseas markets, which pushed it to establish branches or subsidiaries abroad.
In January 2013, QuVideo's mobile app VivaVideo was launched overseas. Nine months later, President Xi Jinping inaugurated the Belt and Road Initiative. The company actively responded to the initiative by expanding its business across countries and regions participating in the BRI.
In 2014, grasping the opportunities brought by the soccer World Cup in Brazil, it launched a Portuguese version of VivaVideo, which then ranked first on the most downloaded local video app list released by Google Play.
The breakthrough in the Brazilian market boosted the company's confidence that it can succeed overseas. It went about accumulating international experience. Within two years, VivaVideo posted exponential growth in the number of overseas users.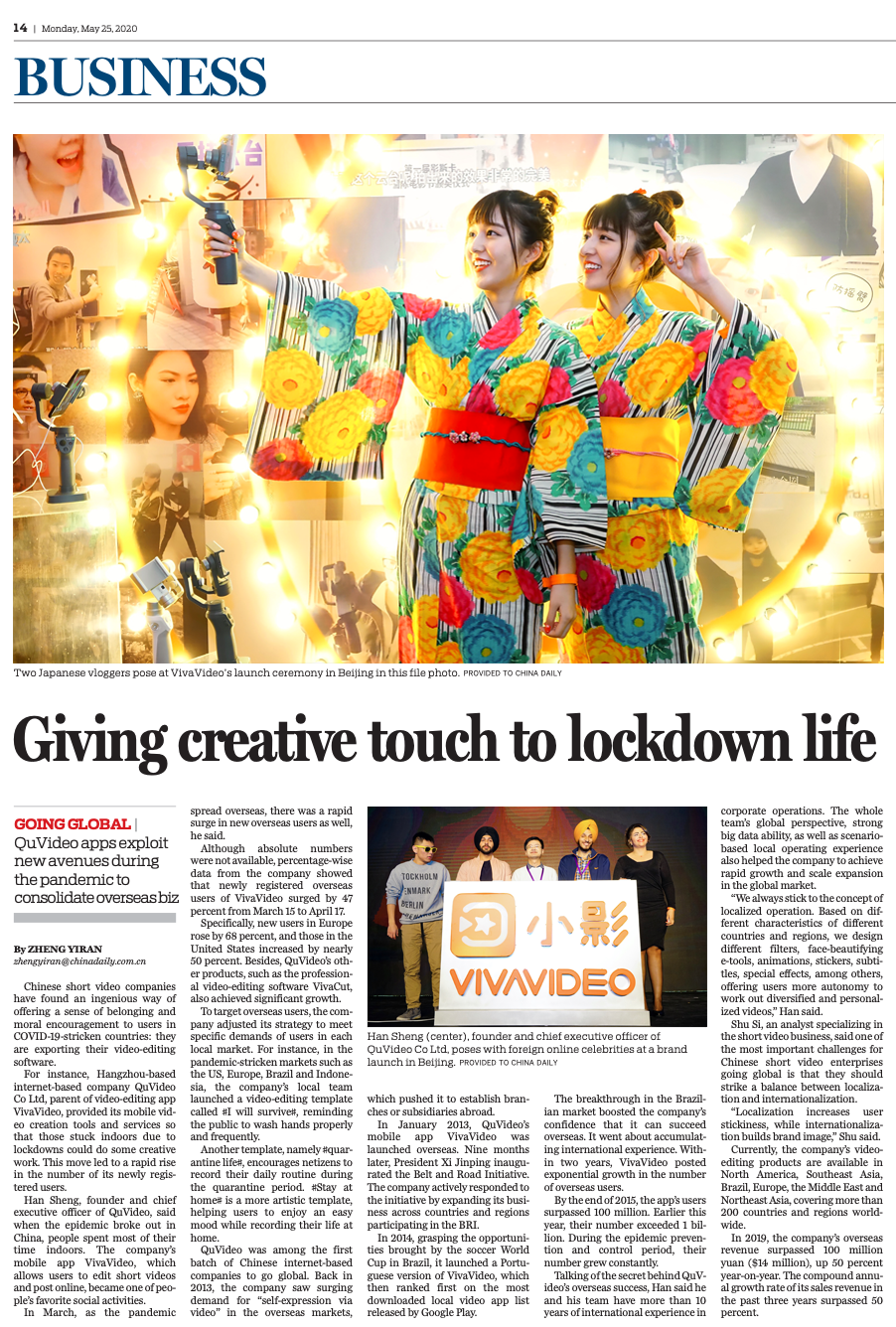 By the end of 2015, the app's users surpassed 100 million. Earlier this year, their number exceeded 1 billion. During the epidemic prevention and control period, their number grew constantly.
Talking of the secret behind QuVideo's overseas success, Han said he and his team have more than 10 years of international experience in corporate operations. The whole team's global perspective, strong big data ability, as well as scenario-based local operating experience also helped the company to achieve rapid growth and scale expansion in the global market.
"We always stick to the concept of localized operation. Based on different characteristics of different countries and regions, we design different filters, face-beautifying e-tools, animations, stickers, subtitles, special effects, among others, offering users more autonomy to work out diversified and personalized videos," Han said.
Shu Si, an analyst specializing in the short video business, said one of the most important challenges for Chinese short video enterprises going global is that they should strike a balance between localization and internationalization.
"Localization increases user stickiness, while internationalization builds brand image," Shu said.
Currently, the company's video-editing products are available in North America, Southeast Asia, Brazil, Europe, the Middle East and Northeast Asia, covering more than 200 countries and regions worldwide.
In 2019, the company's overseas revenue surpassed 100 million yuan ($14 million), up 50 percent year-on-year. The compound annual growth rate of its sales revenue in the past three years surpassed 50 percent.
Source: Giving Creative Touch to Lockdown Life | By Zheng Yiran | China Daily
http://www.chinadaily.com.cn/a/202005/25/WS5ecb2fe3a310a8b241158271.html